OUR MISSION: KANAL JAZZ, A NON-COMMERCIAL MEDIA ASSOCIATION BASED IN PARIS (FRANCE), COMMITTED TO PROVIDE AN INTRODUCTION OF INDEPENDANT TALENTED ARTISTS WHO DONT HAVE ADEQUATE ACCESS TO TRADITIONAL COMMERCIAL DISTRIBUTION AND MEDIA CHANNELS. Streaming is dedicated to Contemporary Indie JAZZ in all Genre, Some ClASSICS and Some WORLD Music. --------------------------------------- Email: kanaljazz@yahoo.fr
Monday, 22 February 2010




For over 15 years, Rare Blend's music resonates with purists as well as those who embrace a progressive multi-genre approach to original instrumental music. Pulling from a variety of influences and musical styles, Rare Blend continues to receive favorable press reviews, and radio airplay, performing at a variety of concerts and outdoor festivals, and have been invited to be included on regional and national compilation discs.
Because of their diversity and growing catalog of music, Rare Blend can be found performing on bills that range from Jazz to jam band, fusion to progressive rock. They have shared bills or have opened for the likes of David Sanborn, Special EFX, Ozric Tentacles, Tunnels, Dark Star Orchestra, Kevin Eubanks, Blood, Sweat & Tears, Spyro Gyra, Frogg Cafe, Los Lobos, and others...
Started in 1993, Rare Blend (Samalot / Holt), released their debut independent CD entitled Cinefusion as a duo. Recorded and produced by Vic Samalot and Bobbi Holt, Cinefusion received local, national, and even international college radio airplay and was performed live in small intimate venues in Ohio.

In 1998, Rare Blend expanded to a four piece with bassist/composer Jeff Scott and drummer Paul Stranahan. As a quartet, Rare Blend added additional musical texture to the original concept and took the live performance to a new level.

CD album recordings added to the catalog to date:
• CINEFUSION (1995)
• INFINITY (2000)
• EVOLUTION THEORY (2002)
• STOPS ALONG THE WAY (2006) Introduced veteran drummer (Fayreweather, Tie Die Harvest, and Wish You Were Here) Vince Broncaccio, whose talent brought a fresh nuance to the group during 2005 and 2006.
• SESSIONS (2009) With veteran drummer Ivan George, whose fusion style influenced by Billy Cobham and Dennis Chambers has brought the improvisational edge to the RB fold since 2007.

Rare Blend continues to write, record, and perform at various concert clubs and outdoor festivals throughout the year and is looking forward to incorporating on the spot improvisations to audiences in 2010.

Rare Blend have released their 5th CD album Sessions, an impressive 14 track disc of live recordings from stage and studio. Unlike the groups previous CDs, Sessions highlights Rare Blends one takes, and in the moment jam-fusion instrumentals.
Sessions features new songs and improvisations from shows in Cleveland, Cincinnati, Baltimore, and in-studio improvs recorded at Odyssey Studios in Cleveland. Also included are selections from a taping for the Crooked River Groove television program (title track - Hipster Spinster), as well as performances during their 2008 Bridging The Gap music/film series against the backdrop of such classic films as; Phantom of the Opera and Metropolis.



Sessions is now available at CD Baby

Instrumentation

Vic Samalot - Electric and acoustic guitars
Bobbi Holt - Keyboards and vocals
Jeff Scott - Bass
Ivan George - Drums & Percussion


Discography

Sessions - 2009/ 2010
Stops Along The Way - 2006
Evolution Theory - 2002
Infinity - 2000
Cinefusion - 1995


Links






Posted by

REDDOG MEDIAS
at 11:13
No comments:
Links to this post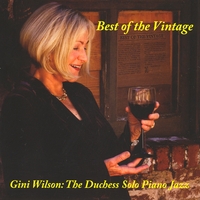 Gini Wilson, known as The Duchess, is legendary in the Bay area as a brilliant jazz pianist, entertainer, and composer. In concerts and interviews she is also noted for her irreverent sense of humor . She is the Director and, with reedman Steve Heckman, the co-founder of The San Francisco ChamberJazz Quartet.
When not performing at concerts and festivals with the group, Gini performs regularly at well-known Bay area clubs such as Kuumbwa, Jazz at Pearls, and many jazz clubs in San Francisco. She has done many television and radio projects and was a regular on the NPR radio show "West Coast Live". She has been the Music Director for many clubs and musical projects in the Bay Area. She studied classical piano (M. Music) and studied composition with the American master George Crumb before dedicating herself primarily to jazz.
Gini Wilson is well known as the Director and Co- Founder of the San Francisco ChamberJazz Quartet. Now she has released an album of solo piano jazz containing the same elements as the SFCJQ: technical virtuosity and poignant lyricism.
Review of The Crossing Point :
"Wilson is a highly trained musician who is informed by the best elements of classical music and jazz. Emotion-drenched chord progressions,... and effortlessly floating harmonies are just a few of the tools she employs to convey her deeply personal musical statements. Wilson's precise execution sounds nothing short of regal …"
- Ken Hohman, All About Jazz.
Best of the Vintage contains gorgeous arrangements of some well-loved jazz standards, two bossa novas by the famed composer Amandio Cabral, two pop songs and some emotionally moving originals by Gini Wilson.
CDBaby :
Posted by

REDDOG MEDIAS
at 10:13
No comments:
Links to this post