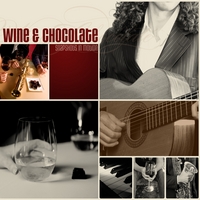 REDDOG MEDIAS INTERVIEW:

Writing, recording, performing - which is your favourite aspect of being 
an artist and why?
  
Having been both a recording artist myself and a producer/engineer for other artists, I can appreciate both sides of the glass, so to speak.
What always attracted me to being an artist is the ability to write, record and perform music that defines my
mood, my emotions and my spirit. I choose to compose without any boundaries, but always conscious about my music
being accessible and melodically memorable. I love to play live, there is nothing like the adrenaline of
performing your own music in front of other people and the freedom to interpret things differently every time. That is the true
beauty of playing original music.
What do you want people to feel while listening to your music?
  
I want people to feel comfortable. The "Wine & Chocolate" project is all about comfort and familiar things.
Like an appropriate wine being paired with the right cuisine, each Wine & Chocolate track is meant to evoke a different mood.
I have had comments that my music makes some feel sexy, some feel relaxed, some feel happy, but everyone feels comfort.
What tours or performances are coming up for you? 
Are  you expecting few dates in Europe and in France in particular?
  
I adore Europe. I think people in Europe and really anywhere outside the US are so much more responsive
to new music and much more appreciative of jazz in general.
I have an incredible band together with some of the best players in New York.
My representatives are working on arranging festival performances next year.
What are you listening to at the moment?
  
Eliane Elias and Porcupine Tree.
LIGHT BIO:

I was born in Moscow, studied classical piano from an early age and moved to New York as a teenager.
Attended the Westchester Conservatory of music, fell in love with jazz and progressive music.
I was signed to Geffen as a recording artist and Warner-Chappel as a songwriter in the early 90's.
Began producing and recording other artists in the 90's, nominated for a Grammy in 2007 as the producer.
Have worked with many prominent names, from Alan Menken to Ace Frehley.
Continue to perform regularly as a musical director/keyboard/guitar player.
Would love for "Wine & Chocolate" to become my only gig!
LINKS
- AMAZON link for sale: coming soon

- CD BABY link for sale:  http://cdbaby.com/cd/WineandChocolate

- MYSPACE address: http://www.myspace.com/wineandchocolatejazz

- FACEBOOK address: Alex Salzman