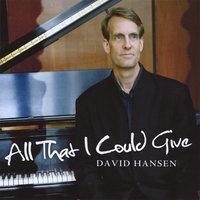 All that I could give CD

REDDOG MEDIAS INTERVIEW:

Writing, recording, performing - which is your
favourite aspect of being an artist and why?
Performing is my favorite aspect of being an artist but recording takes a close second. Performing original material is fun and inspiring, and I love connecting with the audience. When I play my original music to an audience, it's as though I am putting some new creation into existence and there is a feeling of upliftment afterward, as though the universe is supporting me. It is validating to have people enjoying my music and showing appreciation for it. The recording process is always a journey of discovery. It's exciting to see the new creation coming together and with all the technical options available these days in the recording process, there are unlimited poossibilities in terms of sculpting the sound. It's especially fun when I get to the mixing process and hearing it all come together.
What do you want people to feel while listening to your music?
I would like people to be drawn in and carried by the music and have a new experience. I think different music creates different moods and causes different emotional responses. I try to write music with original harmonic and melodic ideas to bring the listener through new emotional realms and experiences.
What tours or performances are coming up for you?
What tours or performances are coming up for you?
I am currently performing around the San Diego, California area.
Are you expecting few dates in Europe and in France in particular?

I haven't booked any tours in Europe but would love to tour there. It would be a treat to come to France. I welcome your suggestions and contacts in Europe so that we can create this.

What are you listening to at the moment?
I listen to alot of music and especially like the jazz-rock blending of Chicago and Steely Dan. I really appreciate many of the classic rock artists from the past such as Peter Gabriel, James Taylor. Emerson Lake & Palmer, Yes, and Quincy Jones.
LIGHT BIO:
Recording artist and composer David Hansen has created an inspiring collection of music, ranging in style from unique jazz originals to film scores. His jazzy compositions, pop sensibility and musical virtuosity are critical elements that have built his musical legacy for many years. Hansen began playing piano at age 9 and continued music studies recieving a degree in music composition.
LINKS


-
AMAZON link for sale
-
I-TUNES link for Sale
-
CD BABY for Sale
-
RAHPSODY for sale
-
Emusic for Sale